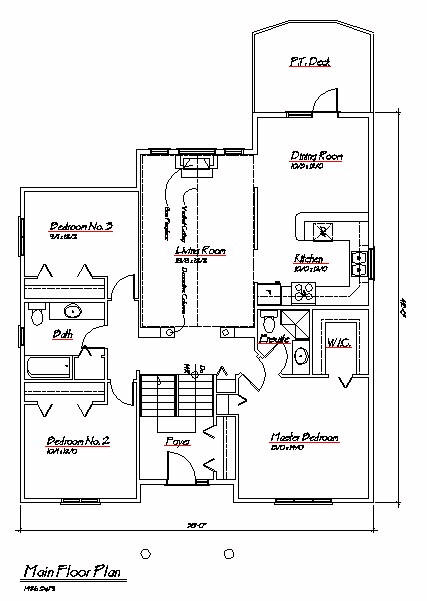 Room Sizes
Living Room 18/8 x 12/2
Dining Room 10/3 x 12/0
Kitchen 10/0 x 12/0
Master Bedroom 13/0 x 14/0
Bedroom No. 2 10/1 x 12/0
Bedroom No. 3 9/1 x 12/2
A main floor master suite is a design that appeals to many homeowners and this bi-level plan provides this option while giving the sleeping quarters plenty of privacy.
Tucked away at the side of the house, the master suite is separated from the central living area on the main floor.
A few steps along the hallway from the master suite takes you to the kitchen - easy access to make that early morning cup of tea.
At the entrance to the house, a covered veranda offers an inviting welcome to the front door and into the rectangular foyer, which offers an immediate view into the formal living room with decorative columns as you enter.
The dining room adjoins the living room and combines to make a large area that will be ideal for entertaining friends and family. A sloped ceiling adds design interest in the living room.
The living room, kitchen and dining room combine in a spacious, open area that is sure to be appreciated for all day-to-day activities. The living room also has a sloped ceiling, as well as a gas fireplace, for cozy gatherings during the cooler months. The kitchen has an eating bar and plenty of counter space for easy preparation of meals. A garden door from the dining room opens on to the deck at the rear.
Pillars and stone accents enhance the exterior of this bi-level plan and the design includes an unfinished basement.
The house is 38 feet wide and 42 feet deep with 1426 square feet of living space.